Now I am already an adult woman, I have a husband and in sex with him I am not limited to standard positions at night in bed. On the contrary, I myself offer him various new ways to have fun, but this was not always the case.

At a young age, I was completely different, I was modest and terribly squeezed. It's not that I had sex under the covers, I never even watched porn, and this went on for quite some time. I didn't date guys and tried to keep my innocence for my future husband, as it was, imposed on me by my mother.

Perhaps this would have continued on, and I was an innocent girl squeezed, if not for my girlfriend, or rather one case that made me understand the taste of sexual pleasures.

About myself
I was nineteen years old, I was a diligent student and devoted all the time to my studies, although sometimes I still went to discos with my classmates, only there I tried to control myself and not drink, or drink only a little champagne.
The guys hit on me regularly, but when they realized that nothing was going to happen to them with me, they fell behind, so all my classmates realized at the beginning of the first year that they would not succeed in having sex with me.
My beliefs were soon accepted by everyone except my friend Olka, who every time tried to tell me how she had a great night with someone, and especially when she had a boyfriend from her senior year.
My girlfriend
Listening to her stories, I tried to pretend that I was not interested, although each time it became more and more difficult for me to hold on. Hormones were playing somewhere inside me, and interest in her stories increased, although I resisted inside, crushing any sexual thoughts in myself.
Olya apparently began to notice my sparkle in my eyes against the backdrop of a calm mine face, and painted more and more colorfully in what positions and where she and her boyfriend had sex. Pulling myself together, I still once asked her to save me from the details and we quarreled, for which I felt ashamed.
Olya and I didn't even talk for a couple of days, but then on Friday during the big break between couples, she came up to me and spoke first. She chatted as if nothing had happened, and it made me feel better, and then during the conversation she suggested that I go to her house in the evening and sit until her boyfriend arrives from his parents.
It is worth noting that Olka and her boyfriend lived together in a rented apartment, and I visited her several times during the day.
In a conversation, Olya offered not only to sit with her in the evening, but also to drink a bottle of champagne. I really didn't want to refuse Olya now, although I didn't want to go, but I decided to agree, especially since Olya knew a reliable person.
Well, let's take a break..
Having told my parents that I would go to my friend and possibly stay with her, I went to Olka and was at her place at six in the evening. Olya greeted me with a cheerful smile and hugs, and then invited me to a room where there was already champagne, a cake, sweets and other goodies.
"Well, let's rest while Vovka is with her parents," Olya suggested cheerfully.
Of course, let's have a rest! When will Vova return? I asked Olya.
"I don't know for sure, it's supposed to be tomorrow for dinner, he just went to them in the evening, probably for money," Olka answered and laughed.
"Then we have time," I said, and went to the sofa near the table.
Olya famously opened champagne and poured a full glass, I tried to stop her, because I never drank more than a glass, but Olya did not listen to me and argued that we had enough time to rest.
Olka's first toast, of course, was a toast to reconciliation and understanding, and she made me drink the whole glass. A slight dizziness appeared after a few minutes, and my cheeks and ears began to burn with a blush, but this did not bother me much, because my mood rose unusually, and I felt lightness in my whole body, so I decided not to stop. Olya, as always, talked a lot, told and laughed . And after half of the second glass, I became like her, and my laughter was just as fierce and loud, and in unison with Olya's laughter. I didn't even notice how the bottle ended, but Olya immediately hit the kitchen and brought a second one from the refrigerator. Suddenly, Olya's mobile rang, she immediately grabbed the phone, it was her Vova who called.
Having finished, Olya turned to me.
"Damn, Vovka has arrived, he's going to go home now," Olya said.
"It's okay, we've already had a good time, so I'll call a taxi and go home," I replied.
"No, why, I want to sit still, you don't have to leave yet," Olya answered.
And how is Vova, you only have one room? I asked.
Like Vova. Let him sit in the kitchen, he has a laptop, let him play games for now, and we will sit still, "Olya said, laughing, and went to open the door.
When Vova arrived, he looked into the room and greeted me, I nodded and smiled at him in response. Olya, taking his things, led him to the kitchen and they stayed there for a few minutes, talking about something.
I stayed waiting for them in the room on the couch and remembered the story of Olya, how they fucked on this couch under the second Terminator at full volume. Then this story didn't interest me, but now, remembering Olkin's story, I felt a slight excitement that ran through my body in a barely noticeable, but such a pleasant wave.
Vovka Olya had a nice guy, not big, but athletic and quite handsome. Stroking the sofa with my hands, I even began to imagine myself in Olya's place, how Vovka caresses and kisses me. Hearing that Olya was going into the room, I opened my eyes and tried to wipe the blissful smile from my face.
"He said that he could sit in the kitchen for an hour, he has something to eat and a laptop there, so he is happy," Olya joked.
"It's somehow uncomfortable, he came home, but they don't let him into the room," I said.
"It's okay, let him sit for an hour, and if anything later we will let him eat our cake with us," Olya laughed and immediately filled my glass.
So we sat for about an hour, or more, I didn't really understand the time and what was happening. I was driven sharply, even while sitting I felt that I could not get up from the sofa until I could, obviously I did not calculate my strength, and the last glass was superfluous. Through closed eyes, I saw how Vova entered the room and sat down next to Olka. They began to talk and laugh, and only occasionally nodded her head, not at all understanding what they were talking to me about. I only saw that they drank the remaining champagne together, and then they began to fool around. My eyes closed on their own, and it seems that I passed out, but I don't know for how long. I woke up from the fact that next to me Olya thumped on the sofa, who brushed aside Vovka. Opening my eyes, I saw that Vova was standing nearby and stroking Olka on her chest through her T-shirt, and she, smiling, was squeezing his cock through her pants. Pleasant goosebumps of excitement ran through my body again, and I decided to silently see what would happen next, especially since they did not pay attention to me and began to kiss.
Leaning back from Vovka, Olya deftly pulled off her T-shirt and, unbuttoning her bodice, tossed it aside. Her boyfriend's hands immediately clasped Olya's large elastic breasts.
Do you like stroking my breasts? Olya asked quietly
"Still, you feel that my pants have risen," Vova replied.
"I feel it, but I want to see it," Olka replied smiling.
"Yes, I want it right here, I think, and Ira will not mind," she said and turned to me.
"You won't mind, will you?" Olya asked me already.
Confused, I did not know what to say, they both looked at me and noticed that I was watching them. "Silence is a sign of consent," said Olya and pulled Vovka closer to her. I continued to look at them in silence, I was fettered by a pleasant fear and a pleasant trembling.
I didn't watch porn and didn't really see anything, and here my half-naked girlfriend sits in front of my eyes and pulls her pants off her boyfriend. When Olya pulled off Vova's pants, I saw his panties in the form of a tent protrude from the body. I even moved a little closer to Olya to see everything closer and was not disappointed.
Olya smoothly pulled off her boyfriend's underpants, and only the fabric of the underpants crawled down, as a thick and rather long cock jumped out from under them. It hung down a little below the horizon, but its head was already visible from under the skin, which clasped it in a circle. Olya looked at me, smiled, seeing my interest, and taking a pen, Vovka's trunk pulled the skin slowly to the base, allowing the head to open completely and come out.
I caught myself thinking that I definitely like Vovin's cock, for me it was so beautiful, so big, light pink. The head was plump with a clear border separating it from the entire trunk and a little brighter than the penis itself. Olya stroked the end of her boyfriend with her hand and looked at me with interest, and then turned to me and asked: "Do you want to touch him?"
I shook my head to the side, although in fact I really wanted to feel him. Olya did not look at my dangling head and herself, taking my hand, put it on her boyfriend's penis. Feeling the hot flesh with my palm, I hugged the trunk with my whole hand. Then Olya began to move my hand for me, stroking the penis. At that moment, Vova exhaled contentedly with a smile. I was all squeezed with excitement, I even began to breathe inconsistently, and I decided to remove my hand, pulling it back and releasing it from Olya's hand. She did not resist for a long time, and immediately she took Vova by his dick and pulled him closer.
Olya, sticking out her tongue, lightly licked the head, and she reacted immediately, increasing in size and swelling. Then Olya hugged the head completely with her lips and began to suck it, with one hand she stroked Vova's testicles, and with the other she stroked the trunk itself. I did not understand myself, it all seemed so interesting to me, so appetizing that I fidgeted in place.
Olya's mouth moved rhythmically, gradually trying to increase the pace in sync with the hand, while the cock went deeper into the mouth, and Vova's breathing became stronger. I didn't notice myself how I began to lick my lips out of interest, but if I didn't notice it, Olya noticed it. "Do you want to try it too?" she asked me. I didn't answer, but I nodded as I couldn't control myself anymore.
Olya pushed her head back and, holding the base of the penis with her hand, let me lean towards him. Everything in me trembled and trembled, but I resolutely approached and clasped the sweet tense head with my lips, and slowly began to suck it into my mouth. Bliss covered me with my head, I tried to swallow the penis deeper and feel how hard male flesh filled my mouth with itself. I quickly moved my tongue in a circle and mooed with pleasure, and Vova groaned in the tone of my mooing.
Previously, not only didn't suck, but I didn't see the dick live, but then I realized that I like to suck, I love it, I want to suck all the time. I opened my eyes and took hold of Vovka's cock with my hand, and began to work harder and more confidently with my lips. Olya moved away even more and just looked at me with a satisfied smile, then at her boyfriend, who himself now closed his eyes and threw back his head, moaning. The sound of Vovka's groan and the sight of his pleasure only cheered me up, and I tried even better and even faster. With all my mouth and hand, I felt how the dick grew and tightened more and more, it puffed up so much in volume that it seemed to me that it would explode, and I was not mistaken.
Vova groaned loudly, his voice became coarse, and I felt with my lips how the whole member straightened, puffed out, and sperm began to move along its lower part. I took several deep throats and felt the hot liquid hit my tongue. The pressure of the sperm was strong, I moved my tongue along the head and thereby smeared the sperm inside my mouth, but I didn't always have time and several powerful sprays splashed right into my throat. My whole mouth was filled with thick viscous sperm, it was a little tart, a little salty and insanely delicious. I didn't want to swallow it right away, I continued to lick the head and use my hand to help the sperm flow all into my mouth so that not a single drop would spill.
Vovin's groan subsided and he slowly took out a member of my mouth and stepped back sat in a chair with his head thrown back. With a full mouth of sperm, I began to swallow it slowly in sips and continue to try to enjoy the whole bouquet of flavors of male juice. I was only distracted by Olya, who moved towards me and asked me to give her some sperm. I leaned my lips against Olya's lips and released some viscous juice into her mouth. Then we sat side by side and together, smearing the sperm with our tongue across the palate, enjoyed its taste and swallowed it in small sips.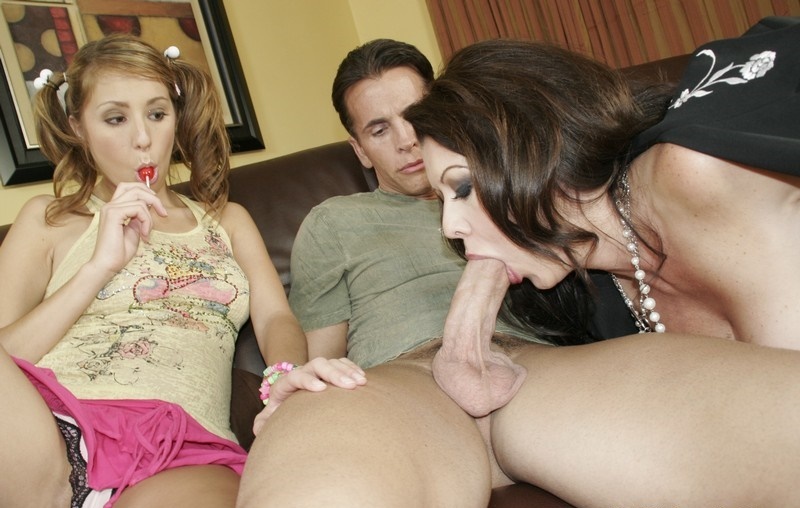 What came over me that evening, I don't know. But this case helped me to liberate myself. I finally realized that sex is nice. After that first blowjob, I fell in love with this thing. Although she did not agree to sex for some time. But I managed to taste about a dozen members in my course. And this love of blowjob I still have. I never miss a chance to suck my husband. Moreover, his penis is the largest of all that I have tried. And he ends up in my mouth very thickly.