In general, I had never gone hiking with Nika before, I still always liked passive rest more, but this time she persuaded me. The route was relatively easy, only a few hours walk from the tourist base where we were supposed to leave the car, but the place there is simply fabulous, at least according to the description of the wife. And at 8 in the morning we were at the base, it remains to wait for the rest of the participants in the campaign. To my surprise, our companions turned out to be only two strong young guys, Nikina's friends did not come this time for some reason. When we hit the road, I almost immediately found myself trailing, and in general I had difficulty keeping up with my wife and her friends. Which is not surprising, after all, it was the first time I participated in such an event, and it was not at all easy for me. I was only glad that so I could calmly admire Nicky's elastic ass, which was walking ahead and fantasizing.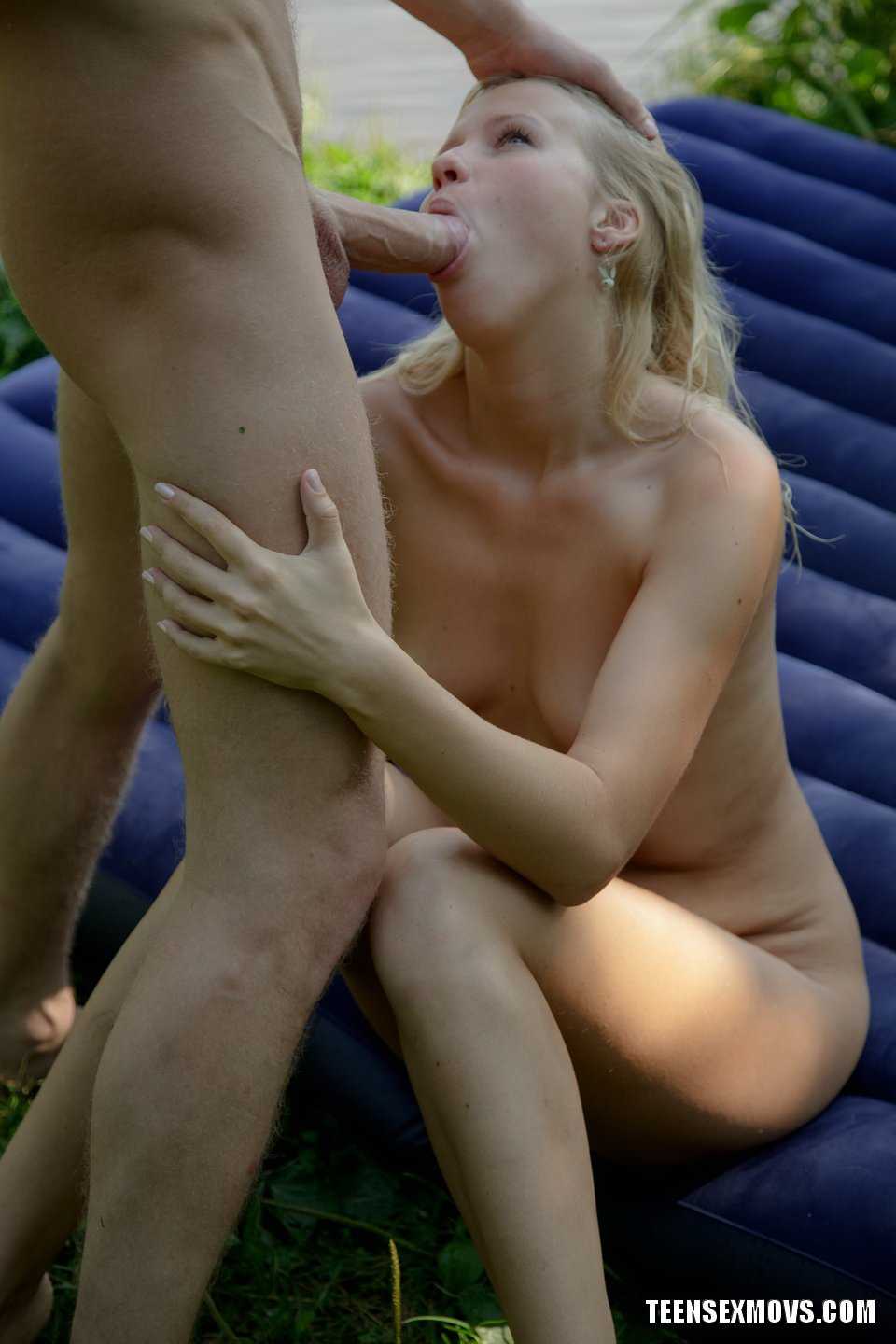 In general, I love to dream a little on sexual themes, and naturally, seeing my beautiful wife and two practically unfamiliar guys in front of me, I began to imagine how the trip would go if I weren't around. Surely Stas and Cyril would start to pester Nick. But would she answer them? I was sure that my wife was not cheating on me, but this did not stop me from fantasizing. I imagined how the guys take turns fucking my doll, and how she takes them in her mouth.
From such thoughts, the member became a stake, it became even harder to go. When we got to the place, Kirill and I began to set up a tent, and Nika and Stas went to collect brushwood for the fire. Of course, it seemed strange to me that the duties were distributed in this way, but I didn't argue, although I noticed what greasy looks the broad-shouldered Stas throws at my wife. We set up the tent very quickly, it was immediately clear that Kirill was experienced in this matter, but Nika and Stas disappeared somewhere and I decided to help them. I did not go far from the clearing, because there were enough dry branches even here. But I didn't manage to score a lot, because I saw my wife and Stas.
And what I saw put me in a stupor. Nika, on her knees, famously sucked the guy's impressive pussy, swallowing it completely. The legs immediately became cottony, all 6 years of marriage, the vows of allegiance in the registry office, the honeymoon, our plans immediately flew before my eyes. And all this now did not matter, my Nikuska took in the mouth from another. And she never gave me a blowjob so passionately. My sweetie grabbed Stas's strong ass with both hands and picked up a wild pace, I could even hear her champing sweetly. And this sound put me into some kind of trance, instead of jumping up to the traitor and pushing her boyfriend away, I quietly hid behind some bush and began to watch. Right before my eyes, what I had dreamed of for so long was happening – my wife was cheating on me. The hand itself fell, and I, lowering my pants, began to masturbate.
The more diligent Nika swallowed Stas's dick, the more furiously I worked with my hand. But here the guy all tensed up and groaned through his teeth: – I'm finishing, substitute the muzzle. As soon as Nick managed to free her mouth from the penis, as sperm splashed right into her face. There was a lot of cum and, it seems, she did not expect such an ejaculation at all. In the end, my Nikuska received the last portion of sperm and, laughing, began to rub her eyes. – Well, you give Stasik. Have you been hoarding it all week? she asked, coquettishly licking the cum off her fingers. "Well, you know how much I love our trips. I just don't understand why you took your horned one, now we won't normally have sex. – How is this why? It's so cool, real extreme. I did not have time to finish, the couple went almost to the bush where I was hiding, and I had to hide. And only when they passed, I got out of the shelter and followed them to the tent.
After the suction, the wife behaved as if nothing had happened, only I noticed that she did not completely wipe the sperm and a few cloudy droplets got tangled in her black hair, not giving me rest. Member naturally stood stake, and I was literally torn apart from excitement and jealousy, I wanted to continue. Dinner went smoothly, but then Nika offered to swim in the forest lake. I didn't know how to swim, so I had to splash around in the shallows watching my wife swim with two guys. It seemed that she simply forgot about me, swam with Cyril in a race, squealed merrily when one of the guys dived under her and grabbed her leg, or maybe not her leg at all. Soon I noticed that both of my wife's friends had erect members, and they were rushing with might and main from swimming trunks to freedom. And then I saw that the top of Nika's bathing suit had disappeared somewhere. I began to wave my hands, trying to draw my wife's attention to the fact that she had lost something. – Ouch!
Guys, don't look, look for a swimsuit, – Nikusya squealed, laughing and began to cover her large boobs with her palm. But she didn't do it very diligently, and the guys were in no hurry to look for the loss. So soon Nika was already shining with might and main with milkings. Of course, for the sake of appearance, I was indignant, but at the same time I myself admired with pleasure how Cyril and Stas devoured the bust of my wife with their eyes. However, in the end, the bathing did not end with anything, and we began to go to bed. The tent was for 4 people, and we had to sleep in rather cramped conditions. I lay down between Nika and the guys and pretended to fall asleep right away, even snoring. Some fuss immediately began, Nika got up and lay down between the guys. I heard her whisper: – Well, what? Let's. – What are you doing? Let's at least go out, wake up, – Kirill whispered a little louder. But Nika insisted on her own and soon I heard: "You are the first Kirya." There was a slight groan and characteristic sounds were heard, which you can't confuse with anything, my beloved wife was being fucked right next to me.
I continued to snore diligently and only regretted that I did not see this beauty. But thanks to my imagination, I had a good idea of what was happening. In addition, soon Nika completely lost her vigilance, and began to moan, I realized that he was ending, and then a quiet voice of Cyril was heard: – On the ass to lower? — No, come on in the pussy, I want to get pregnant. Nicky's answer shocked me so much that for some seconds I forgot about snoring, but no one noticed. I heard the guy wheeze and then thanked my wife for letting me cum in my pussy. Immediately, Nika invited her second lover: – Come on, bunny, now it's your turn. And pump me full of cum too, just to be sure. "How are you going to explain this to your hubby?" You are constantly fucking with a condom, – Stas asked, obviously holding back his laughter. – I'll say that I'm torn, he loves me, he will believe.
This time it was even more interesting, because Nika was right next to me, and when she spread her legs, her knee touched my thigh. I heard the strained breathing of my wife and her lover and felt that my balls were starting to ache, I urgently needed to finish, but I was afraid to even move, so as not to frighten off a couple. Nika finished again, and during the orgasm she moaned so much that Stas seemed to cover her mouth with his hand, at least the moans became much muffled. But the guy finished completely silently, which upset me a little. There was silence and I, despite the excitement and pain in a long standing member, fell into a dream. I had some nightmares, so I soon woke up in a cold sweat and found myself in a tent all alone. He looked out into the street and found no one, only heard some groans. I went for that sound.
I had only to take a few steps deep into the forest, and I saw what I was looking for. Nika was lying on her stomach on a thick fallen tree, and Kirill was puffing over her from behind, and this time he did not hold back and fucked with full force. He also praised my wife's ass and I realized that they were having anal sex. It was already dawn, so I could clearly see how powerfully the guy hammers a dick into Nicky's round ass. And each of these pushes was accompanied by the lowing of my traitor. She probably would have moaned at the top of her voice with pleasure, but Nikusi's mouth was busy, because Stas sat down on the same log in front of her, and she gave him a blowjob. I hid behind the trunk of a large tree and, looking out between the branches, began to masturbate. It's just that I didn't last long. Just a few hand movements and a powerful stream of cum escaped from the prick. I had to bite my lip to keep from moaning, it was probably the most powerful orgasm in my life. It was only after that that he became very ashamed. In front of my eyes, my wife is fucked in the mouth and ass at the same time, and at that time I fill the tree with sperm, I became disgusted with myself. But it didn't last long. I again began to look at how Nika takes two members at once and again began to get excited. And then the voice of Stas was heard: – Let's take it deeper, now I'll finish.
Nick answered only with a contented lowing, and soon she coughed, apparently choked on sperm. But now her mouth is free and Cyril, continuing to fuck, decided to chat with her: – Do you really not give your husband in the ass? No, of course not. "Well done, there's nothing to spoil him, we'll get more," the guy laughed and drove Nicky's dick especially hard, making her scream. I started masturbating again and this time I finished at the same time as Cyril, only he filled my wife's ass with a growl, and I again lowered it to the bark. Nika stretched cutely and, getting up from the tree, wiped her ass with my T-shirt, it turns out that she used my clothes as bedding. But I was not even offended by this, I realized that it was stupid to fight with your desires.