You will arrive in two days. If you knew how my heart begins to beat at this thought that soon, finally, sex night, I will hug and kiss you. Every day I imagined our meeting with you, how it would happen, what would happen, what would you tell me … Finally, this wonderful day has come, I will see you soon … Long 7 months have passed, these were the most difficult 7 months, it seems like an eternity has passed without you. I'm going to go to the airport to meet you, and I'm so nervous, like before the exam … I put on black lacy lingerie, it looks amazing on my tanned body, then I put on jeans, a white jumper with a large knit that hugged my figure a little, emphasizing the curves of the upper part of my incredible body, I have white flat-soled boots on my feet, I did not wear high heels because the mere thought of you made my knees tremble a little and I would not have kept on heels, so I decided that I'd rather stand firmly on my feet. I took my handbag, car keys and a light leather jacket. An hour later I arrived at the Airport, 30 minutes were left before your arrival, but they were an eternity, I walked around the airport hall not knowing what to do and how to overcome the excitement. The landing of your plane has already been announced, for some time you appear in the airport hall, you noticed me, and a smile shone on your face. Here you come to me a little more, and you will be very close, I just froze, I stood and could not just take a step. You, remembering that we agreed to kiss immediately when we met without words.
You came up, leaned over a little and kissed me, my heart pounded wildly, it seemed to jump out of my chest, at first it was a little uncertain kiss, then a lot more decisive, and here we are kissing passionately in the middle of the hall, you stroke my back with your hands, touch my face, neck … Then you hugged me and for some time we still stood like that in each other's arms and you whispered in my ear: – Kitten, how I have been waiting for this moment …, my dear, beloved girl, I will not give you to anyone, I love you … This it was amazing … In the end, we went to the exit, got into the car, and drove to my house … .. On the way home, we, one might say, got to know each other anew, you talked about yourself, what you were doing at that time, we joked, laughed, then silence came, it was not awkward for us to be silent, this was just a loud silence, when it's nice to just be next to the person you love, the silence was broken by your light touch of your hand on my cheek, feeling the touch, I smiled slightly, while I you were driving a car you teased me in every possible way, you kissed my ear, neck, with your other hand you made your way under my sweater and lifted it a little higher you bent down and began to cover my tummy with kisses, feeling my growing arousal you stopped caressing, and then continued, my arousal grew from your bottom touch, but I asked: – Honey, please stop teasing me … I can barely control myself.
You smiled slyly and stopped caressing, you sat down in a normal position, but still put your hand on my knee and lightly stroked. We were talking about something… and now they drove up to my house … Entering the apartment, you took off your light windbreaker, took off your shoes, you helped me take off my boots, I took you to your room and gave you some time to take a shower and change clothes, I, respectively, too changed, put on a black evening dress, my back was completely open in it … ..and I had no underwear, the dress did not allow such a part of the toilet. I changed and entered the living room, where I was already covered so for two, I took matches and lit candles on the table, on the floor, and on the windowsill. The room was filled with pleasant warm light, I turned on slow music and went to the window. You didn't keep yourself waiting long. You entered the living room inaudibly and, seeing me standing by the window in a black evening dress, smiled, and inaudibly approached me, hugged my waist and covered my neck and shoulders with kisses … you turned me around and kissed me passionately.
I offered to sit down at the table … Music played, you offered to dance, I agreed, you gave me your hand and we got up, you hugged my waist and pulled me to you, I wrapped my arms around your neck. We slowly followed the melody of gentle music, your hands gently began to caress my back, then took me in your arms and carried me to the bedroom, saying in my ear: – Dear … my girl … My good … I love you … Let's go … I tightly hugged your neck unable to resist, I clung to you and my heart pounded hard … I wanted you madly … You gently laid me on the bed, and quickly took off your shirt, you approached me and lay on top of me, resting my hands on the bed and I I felt your strength, I lay silently, you kissed my face, neck, shoulders, barely touching my skin with your lips, I was completely in your power; you lowered the straps of the dress (all this was accompanied by kisses) and lowered it to my waist, and then completely took it off, you saw my naked body … taking a small pillow you put it under my head, with your one hand you put my hands behind my head, and looked me intently into my eyes, without taking his eyes away with his other hand, first touched my face, went down to my neck, caressed it and my shoulders (without taking his eyes off mine). Then your hand descended lower and lower to my chest, and now you grabbed my chest with your hand and gently squeezed, making sure of elasticity, you saw how excited I was and I was breathing rapidly, you liked to look and see excitement in my eyes, you continued to gently caress my chest, tearing a moan of pleasure from my lips.
You let go of my hands, went down and began to caress my breasts with your tongue, taking already excited nipples into your mouth alternately, you gently bit them and made circular movements with your gentle tongue. You caressed my chest, and in the meantime your hands caressed my hips and stomach, you, kissing, went down to the tummy and covered it with kisses, a slight shiver of pleasure ran through me, which made me bend a little. Without noticing how, but you ended up with me at the feet you began to cover my slender legs with kisses, you especially paid attention to your fingers, you kissed them, swallowing them one by one, playing with them with your tongue, then switched to the calves and moved higher and higher, accompanying with kisses and now you are already close … You parted my legs and touched tongue of my pussy, from this I shuddered a little and moaned slightly with pleasure. What miracles did your tongue do there!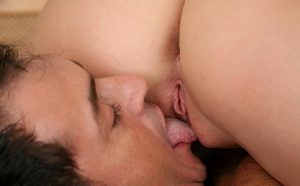 I did not remember myself from pleasure, everything was spinning in my head, and a groan broke from my lips. Your tongue either rotated around the clitoris in a circle, then went from top to bottom, then penetrated inside, exciting to such an extent that I just wriggled with pleasure … You did everything very slowly and gently, trying to deliver as much pleasure as possible. You drank me drop by drop, but to the very bottom. My barely audible moans gradually turned into a very definite cry. I have never experienced this with anyone. After a while, I strongly bent over, a powerful discharge ran through my body to such an extent that I shuddered violently and bit my lip. You were distracted from your occupation and began to kiss me passionately on the lips. Our tongues intertwined in a dance like two snakes, you stroked my hair and neck with your hands, whispered tender words to me. I couldn't wait any longer, my arousal grew, and I just begged you … – Roma … dear, come on, I want you … I can't anymore … don't torture me …
You lay on top of me and very carefully entered me, I wrapped my legs around you, and began to rhythmically enter me to the full length, a cry broke out of my open lips and I began to move at the pace of you, approaching the point of highest bliss, I grab your back with my hands, waves of orgasm roll over me, I could not help moaning, moaning pleasure. From strong excitement and orgasm, I dug into your back with my hands and left small marks on your back, we finished almost at the same time … How good it was for me to be with you.
We spent the rest of the night in bed lying against each other and talking about everything in the world, it was so easy and pleasant for me to be with you, I have never felt such tenderness for anyone, I wanted to be with you, touch you, feel your kisses, love and be loved by you. You opened a new world for me where I felt loved and protected by you. Then you hugged me, I put my head on your chest and you stroked my hair, oh this sex night, I fell asleep in your arms. In the arms of a loved one. Each subsequent night spent with you was bliss, I gave myself to you all, trusting you.
I LOVE YOU – Sex night!
THE END