My wife went away for the weekend with her mother, and I decided to just be at home alone. In the evening, Sasha's friend called and invited me to visit, explaining that I was alone, and my wife had gone to my mother-in-law – Sasha still insisted that I even come alone. I had to go to visit him, I was glad, because I knew that his wife Olya was an excellent cook, and a beauty. Caught in front of the door of my friends, which swung open just a second after my call.
Hi, Yura! Come on! – Olya's voice was gentle and affectionate, as always.
Hi, Olya! Today I am without my wife, she went to her mother for the weekend, – I said and went into the hallway.
The large and clean apartment was very cozy and hospitable, my wife and I often visited them and always felt comfortable. Going into the living room, I greeted Sasha, and we started drinking coffee, as it turned out, the coffee was with cognac, but on Saturday evening you could afford to drink such coffee. We chatted at ease, and then Sasha gave such a thing that I almost collapsed from my chair:
Yura, would you fuck my wife?
I spent a long time collecting my thoughts after such a question, but I did not come up with an answer. Olya looked at me, and a smile froze on her lips, I even thought that most likely it was just a joke, and my friends decided to make fun of me. But looking at Sasha, I realized that he asked me quite seriously, I noticed from his look that he was looking forward to my answer, it remains only to gather strength to answer.
"Your wife is very beautiful," I began hesitantly, "but we are friends, and sleeping with your wife would mean that I would betray not only my wife, but also my friend.
"You don't understand," Sasha smiled, and I even felt a little better from his smile, "I would like to see how you have my wife, and possibly join this action.
All this time, Olya was sitting next to me and smiling, she really was a very beautiful and attractive girl, her mouth-watering forms probably made many men lick their lips, and I myself did it more than once. My wife Marinka, of course, is also good, but as it is often said: "Forbidden fruit always seems sweet", apparently, that's why I sometimes looked at my friend's wife. I would not mind trying Olya in bed, but I understood that over time my wife would find out about it anyway, and most likely she would not be happy with this turn of events.
Then my friend's wife Olya leaned towards me, while her light dressing gown opened a little in the chest area and I saw her elastic boobs, after which vulgar thoughts filled my head with a key.
"So," Olya asked, "do you want me?"
I felt the color rise to my face, she got up from her chair and opened her dressing gown, her completely naked body beckoned to her. Without waiting for my answer, Olya leaned over beside me and deftly began to unbutton my fly, and Sasha just sat and calmly watched her not modest actions. Olya pulled out my penis and began to gently lick it, he stood like a pillar, I really wanted to enter Olya's vagina and start fucking her brutally. I got up, quickly took off my pants, turned Olya back to me and, bending her, ran my hand between her legs, she was very wet, and I guessed that she also wanted my penis to enter her. I began to slowly insert my penis into her vagina, and she suddenly began to wave my movements.
I felt completely the depth of her vagina, I liked to fuck her, with every movement I thrust my penis as deep as possible. Then Olya straightened up and freed herself from me, then she turned around, lay down on the table and, spreading her legs, whispered:
"Lick me, I've wanted this for so long!"
I leaned over and began to kiss her intimate charms, I liked that she was moaning with pleasure, I continued to kiss and lick her womb until she began to shudder in a violent orgasm. After that, I immediately put my dick in her wet, still throbbing from orgasm pussy and began to fuck her as hard as possible, putting all my efforts. When an orgasm hit me, I almost fell off my feet, it was so strong that it seemed my body began to float in weightlessness. I collapsed on top of the fragile Olya, opening my eyes, I saw Sasha looking at us contentedly and smiling maliciously. Then I heard steps, and was a little surprised, because there were only three of us in the apartment. Turning around, I was stunned:
"Hello, dear," Marina said quietly, and I was taken aback. I instantly jumped up with Olya, surprise froze on my face, and thoughts began to convulsively tangle in my head. I didn't even know where to start explaining, and how, in general, Marina, who was visiting her mother, ended up in my friends' apartment, and even at such an inopportune moment.
"No explanations are needed," Marina continued, "I came here before you arrived, so that I heard and saw everything.
"I don't know… I don't understand… How is it…" I began hesitantly, "it somehow came out by itself. Marina, I don't know how to justify my actions. What are you going to do now?
"I intend to sleep with Sasha," she replied, "I have long wanted to try sex with him. We already talked about this topic, it was I who suggested playing you with my departure. I came here in advance and waited for you to come and sleep with Olya. I was sure that you will not be able to resist her charms, she is really very sexy and attracts men to her. And now, without a twinge of conscience, I can have sex with her husband, – Marina smiled and went to Sasha.
"Don't worry," Marina said, turning to me, "I'm not going to quarrel with you, I just want to sleep with Sasha.
Marina began to slowly undress, Olya and I sat on the sofa at the table, and just watched what was happening. My wife took off all her clothes and stood on all fours on the table, and Sasha began to kiss her pussy, I thought, it seemed to me that jealousy should have jumped in me, but for some reason this did not happen. I watched what they were doing, and I liked that my wife was satisfied by my friend, she moaned and breathed passionately, arching her back strongly. And Sasha literally had her with his tongue, which he thrust far into her vagina, imitating sexual intercourse, Marina moaned even more, I understood that this was ecstasy, I knew this moan well.
Sasha deftly turned her around, laying her back on the table, as Olya had recently been lying there, and began to fuck my wife, Marina continued to moan with pleasure, and my penis had been standing for a long time. Olya bent down and deeply swallowed it, and then, straddling me, began to have rough sex with me. The girls moaned, I was insanely excited by the fact that I was fucking Olya, and next to me my wife was fucking my friend and also enjoying it. Sasha groaned, I realized that he had reached a climax, and Olya finished almost simultaneously with him, but I was pleased to realize that she had an orgasm on my penis. After that, she jumped off me, knelt down and began to give me such a deep and sensual blowjob that I could not hold back for a long time and finished. I felt my sperm completely fill her lustful mouth, and she greedily swallows it, then she literally sucked everything out of me to the last drop.
I wanted to lie down, we all went to the bedroom to lie down on the big bed:
How are you, dear? Marina asked softly.
Normally, – I answered, – to be honest, when I went to visit my friends, I did not imagine that this is how our evening would end.
"And I assumed," my wife chuckled, "Olya and Sasha and I have already considered more than once how to persuade you to sleep with his wife, and let me do the same with him. I just thought that it would take much longer to persuade you, but you did a great job, quickly agreed.
Marina lay down closer to me and passionately kissed me, after which she sank lower, and already her mischievous tongue began to quickly slide over my cock, which Olya had so willingly sucked recently. Then Marina began to shudder somehow strangely, I opened my eyes and saw that Sasha was attached behind her. He fucked her, and she sucked me, and I realized that Olya did it much better, I looked at her, she was lying and smiling at me. Her elastic breasts beckoned me to her, I understood that Marina was now getting double pleasure, and Olya was lying and bored. I tried to free myself from my wife, and she did not hold me back, but continued to fuck my friend in full.
Olya and I moved to the other side of the huge bed, and I began to caress her wet pussy with my hand, putting one finger, then two. I felt that she liked it, then I decided to add one more to two fingers, and after a while all my fingers had already penetrated into her vagina. She moaned and I stimulated her, then she asked me to play with her ass. I generously smeared her anal with her own juices and my finger easily slipped into it. After that, I began to stimulate him, and Olya moaned even louder and whispered:
"More, deeper, come on!"
I added one finger at a time, and now my four fingers had already got into her relaxed anus, and she already howled with pleasure. Nearby, I heard the stormy moans of my wife, and I understood that she had caught another orgasm, I turned in her direction, she saddled Sasha in the pose of a rider and fucked him with all her might. Olya pulled my fingers out of her ass and, turning around, became a cancer. She spread her buttocks wide with her hands, and I saw her open anus, which beckoned my cock to enter it. I got attached to her, and my penis penetrated her developed anal without the slightest difficulty, and it was amazing. My wife never agreed to have anal sex with me, so I enjoyed it with might and main with Olya.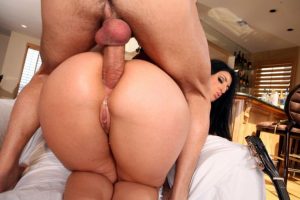 Olya groaned and waved at me, my penis completely entered her appetizing ass from above like a spear, while I received heavenly pleasures. She stimulated her clitoris with her hand, and soon finished again, I felt that I couldn't restrain myself now, but I didn't want to finish now and stop such a pleasant action, so I pulled the dick out of her ass.
"What are you doing," Olya asked, "tired?"
"No, wait a bit, I don't want to come so fast," I replied.
And she again parted her buttocks with her hands, fully revealing her anus, I suddenly wanted to lick it. I leaned over and ran my tongue around her open anus, she moaned and tried to stretch it even wider with her hands. I stuck my tongue into it and began to lick the walls of the anus from the inside, Olya moaned, and I liked this completely new thing for me, which brought incredible pleasure to me and my partner. Continuing to lick her anus, I realized that my orgasm was not receding, but rather approaching, I decided that such an appetizing ass must certainly be filled with my sperm. I tore my tongue off Olya's sweet ass and jerking off just a couple of times got a gorgeous orgasm, my sperm splashed into her open anus, and she whispered:
Come on, Yura, come on! Fill my ass with your cum to the brim!
When the last drop of sperm splashed into her anus, I collapsed exhausted on the bed, my head was spinning with inexpressible pleasure, what happened, I really liked it. I thought how good it was that I agreed to go to friends today, and how wonderful that my friend and I switched wives. I turned my head to see what my wife Marina was doing at that moment, she was kneeling on the bed, and Sasha was standing over her in full growth. He took her by the hair and literally pricked her head on his penis, I saw how his penis completely to the balls enters my wife's mouth. And so he pulled her back by the hair and quickly began to masturbate, Marina opened her mouth wide, into which Sasha's sperm immediately splashed, he already screamed with pleasure. My wife swallowed everything, then licked my friend's cock and turned to me with a wink. I thought that although someone else's wife seemed to me better in sex, but mine is not inferior to her at all.